Nimatic Brix Refractometer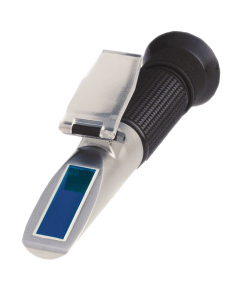 Save money and achieve optimum working conditions.
With this Nimatic Brix Refractometer you can quickly read the concentration in your metalworking fluids. Too little concentrate means poor lubrication and increases the risk of corrosion.
Too much concentrate results in poor performance, as the heat development will increase. Also, too much concentrate results in higher costs in the production.
The Nimatic Brix Refractometer in brief:
Measures from 0-18% or 0-32%Brix
Accuracy of +/- 0.2%
Automatic temperature compensation (ATC)
Hidden calibration screw prevents incorrect adjustment by mistake.
Double joint on daylight plate ensures that the daylight plate fits exactly on the main prism.
Light sensitivity ensures that you are able to use it in normal lighting.
A few drops of liquid on the main prism is enough. The value is immediately readable - simple, easy and quickly.
NOTE: Also available for testing the freezing point of antifreeze, windscreen washer and battery fluids. Ask for the Nimatic Auto Refractometer.