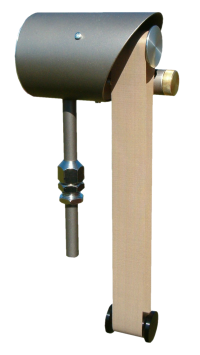 Save money and prevent machine downtime.
The Nimatic Oil Skimmer is especially designed to remove tramp oils (hydraulic oil, spindle oil, etc.) from the surface of the metalworking fluids. Tramp oils should always be removed.
Not only to increase the lifetime of metalworking fluids and cutting tools, but also to ensure optimal working conditions and overall better working environment.
The Nimatic Oil Skimmer 2430 and 2430P in brief:
Built-in Oil Pump (also available without)
Pump pressure: Approx. 1 bar
Effect: Approx. 3 l/hour
Continuous level adjustment
High-powered 6 VA motor
Easy and simple montage
Quickly and easily separation and assembly
Small dimensions makes it fit in almost any CNC machine.
Spare parts available
Belt Skimmer
This unique Nimatic Oil Skimmer is able to save you from lots of trouble. With the built-in oil pump (model 2430P), it can automatically transfer the skimmed oil to another location. It could be a visible container on top of your machine or to a central waste oil depot in the next room.
Several skimmers of this model can be connected to the same waste oil depot. It is able to transfer the skimmed oil more than 10 m away. Quickly and easily separation and assembly plus complete spare parts store makes the Nimatic oil skimmers very attractive for the cost-conscious purchaser.