Nimatic Drum Trolley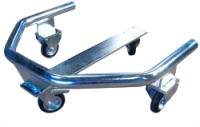 The Nimatic Drum Trolley is designed for transport of standing drums.
Together with the Nimatic Emulsion Mixer you have the perfect mixer unit. The drum trolley is also ideal for using as moveable chip container or scrap container.
The two turnable and the two fixed wheels ensures maximum mobility. The hight of the trolley is adjusted to an EUR-pallet, so that drums can be pulled/pushed to and from the pallet.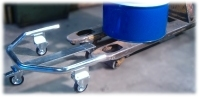 It is very easy to place/remove the drum from the Nimatic Drum Trolley with a pallet lifter or a pallet truck.