Nimatic Auto Refractometer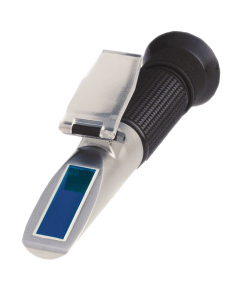 With the Nimatic Auto Refracometer you can easily and quickly check the freezing point in your antifreeze, windscreen wash and battery fluid.
With the Auto Refractometer from Nimatic you can measure propylene, glycol and ethylene asweel as you can use it for checking electrolytic batteries.
The Nimatic Auto Refractometer in brief:
"Hidden calibration screw prevents the refractometer from incorrect adjustment while in use
Double joint on daylight plate ensures that the daylight plate fits exactly on the main prism
Light sensitivity ensures use in normal lightning
Easy and quick to use
The Nimatic Auto Refractometer is securely packed with manual, pipette and screwdriver for calibration.
NOTE! Also available for quickly reading the concentration in your metalworking fluids. See the Nimatic Brix Refractomete